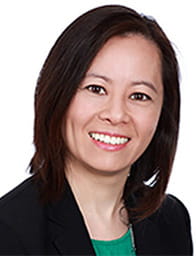 Debbie Wong, CPA, CA, CRPC®
Vice President, Tax Consulting, Private Client Group, Raymond James Ltd.
Debbie joined the investment services business after deciding to focus her time on helping people with their tax concerns through value-added services rather than through a fee-for-service model utilized in public practice.
As part of our team of private wealth professionals, Debbie works with our financial advisors to guide their high-net-worth clients toward practical solutions to their tax issues. She has expertise in Canadian and U.S. personal tax, specific issues affecting U.S. citizens or green card holders, and cross-border tax (immigration and emigration). Debbie joined Raymond James in 2004 as the tax manager in Operations and then transferred to Private Client Solutions in 2013.
Prior to joining Raymond James, Debbie gained 10 years of experience working in public practice as an expatriate tax manager at a major international accounting firm, and articled at an accounting firm handling financial reporting and tax compliance for small business families. Debbie obtained her chartered accountancy designation (CA, CPA) in 1998. She also earned the U.S. Chartered Retirement Planning Counselor (CRPC®) designation in 2018 to expand her perspective on the unique planning needs of our cross-border clients.
In her free time, she enjoys relaxing and travelling with her husband, and takes a particular interest in nutrition and fitness methods to age backward.
Eric Jozsa
Group Benefits Advisor, Raymond James Ltd.
Professional Experience
Eric Jozsa was recruited by the Raymond James Financial Planning team after working a number of years for a large group benefits third-party administrator. As a licensed Advisor, Eric Jozsa is capable of providing comprehensive solutions for his corporate clientele in the areas of group benefits, group retirement, personal/corporate insurance, employee wellness, and health spending accounts.
Approach to Group Benefits
Eric's process for executing an effective Group Benefits plan starts with first assessing his clients' corporate values. To Eric, the "Why" for implementing a group plan is just as important as the "How". Once a mutual understanding of the short- and long-term goals for the company is established, the strategies for achieving those end results become very clear. This comprehensive approach has enabled Eric to become a well-respected leader in the industry.
Professional and Personal Commitments
Eric graduated from the University of Calgary with Honours in the field of Kinesiology. Through operating his own corporation for over a decade, Eric has experienced similar struggles to the typical business owner and he has applied that learning into how he consults with his prospective clients.
Eric was born in Edmonton, AB but was raised in Calgary where he became a true Flames fan. Along with watching/playing hockey, Eric's most rewarding activity is spending time with his wife and their two boys.
Heather Roche, CFP, CLU
Insurance Planning Specialist, Raymond James Financial Planning Ltd.
Heather Roche is an Insurance Planning Specialist for Eastern Ontario who collaborates with Financial Advisors to provide personalized solutions to clients concerning their financial, tax, estate and retirement planning needs.
Heather brings over 15 years of experience in the financial planning and insurance business, and has a proven track record as an established Estate Planner with a comprehensive approach to estate planning and insurance. Heather has been part of the Raymond James Estate Planning Advisory team for over eight years. Her focus is on developing financial plans for clients that incorporate insurance-based products and strategies, supporting financial advisors and interacting with clients. She works with clients from all walks of life and specializes in maximizing cash flow and retirement savings, in particular for clients who have corporations.
Heather is a graduate of Ryerson University and holds a Bachelor of Commerce. She is a Certified Financial Planner (CFP), Chartered Life Underwriter (CLU), and life insurance licensee in Ontario, British Columbia, Alberta & Nova Scotia.
Filo Financial Solutions

803, 2303 - 4th Street SW

Calgary, AB T25 2S7
Website legal disclaimers
Raymond James Ltd. is an indirect wholly-owned subsidiary of Raymond James Financial, Inc.
Securities-related products and services are offered through Raymond James Ltd., member Canadian Investor Protection Fund.
Insurance products and services are offered through Raymond James Financial Planning Ltd, which is not a member Canadian Investor Protection Fund.
Raymond James Trust Services are offered by Raymond James Trust (Canada) in the provinces of British Columbia, Alberta, Saskatchewan, and Ontario, and by Raymond James Trust (Québec) Ltd. in the province of Québec. Both entities are wholly owned subsidiaries of Raymond James Ltd. Trust Services are not covered by the Canadian Investor Protection Fund.
Use of the Raymond James Ltd. website is governed by the Web Use Agreement | Client Concerns.
Please click on the link below to stay connected via email.
*You can withdraw your consent at any time by unsubscribing to our emails.